AMEA Updates December 2022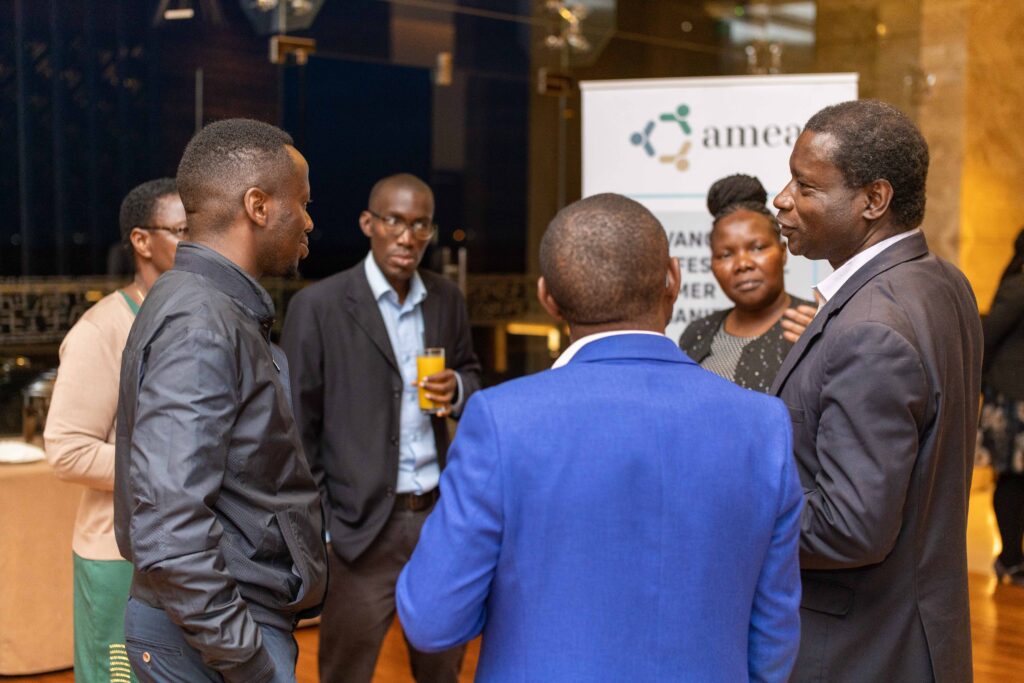 AMEA's BDS Call to Action was launched earlier this year and it continues to drive our work as we develop Country specific BDS Roadmaps that aim to improve the coordination, quality and cost-effectiveness of agri-BDS. The 6 propositions in this Call to Action are:
Standards are necessary to improve the quality of BDS
Sustainable local BDS ecosystems require guiding principles
A standardized assessment process is required to enable FO segmentation and BDS tailoring. This will lead to more cost-effective integrated approaches that can be scaled
Data sharing has the potential to generate synergies and enable learning and improvement cycles
Digital innovations will enable scaling
Reaching the poor will still require subsidies where market-based services are not yet possible
Progress in this second half of the year has been very encouraging as you will see in this Newsletter. The International Standard process was approved by 28 Countries; we are developing partnerships in Ethiopia and Uganda around using guiding principles/standards; the new AMEA Toolbox is ready to launch; the Tool Improvement Facility projects will deliver results in the next quarter and we hope to see AGRI-GRADE launch soon; there have been significant investments in learning/dialogue processes including the ongoing Institute of Smallholder Finance led research; and AMEA has intensified outreach using platforms such as AGRF, AGRA, Aceli Africa and IFAD.
We are also seeing renewals of membership even in Kenya where a number of activities stalled in 2022 due to the elections. It was great to meet our Kenya Local Network members and partners, including the Ministry of Finance who are leading IFAD's new RK-FINFA program which Cordaid and AGRA are involved in.It was clear that AMEA offers a unique opportunity to meet your peers, exchange learning, find new partnerships and work together for a system change. I hope you agree and I definitely want to hear from you if you don't agree!
Looking forward to 2023 we have secured funding from Argidius and the Dutch Embassy (in Benin); and we will continue to pursue opportunities to continue our collaboration with IFAD. We expect to leverage your membership fees by a factor of 4 and invest in supporting your self-interest (to learn, innovate and communicate) and shared interest (to change the BDS market ecosystem). The BDS roadmap process in 2023 should serve both interests and we encourage all of you to contribute in whatever way you can.
ISO's Technical Committee 34 has shared some good news – 28 countries voted positively to start the process of transition of the IWA 29 to a fully-fledged International Standard.
The first experts meeting was held on November 9, with representatives from actively participating countries. The full process should be concluded by December 2024 and will include several rounds of national consultations. The next experts meeting will be in January to discuss the first draft document for consultations.
If you would like to know more about the process and how you can be involved, you can directly contact the National Standards Bodies of your country or Filipe Di Matteo (AMEA Programme Officer).
AMEA Toolbox revised and approved
The Toolbox Working Group has concluded its biennial re-evaluation of the AMEA Toolbox. As a result, four assessment tools and five training and coaching methodologies were re-approved as part of the Toolbox.
The Working Group, in collaboration with the tool owners, organised a series of webinars to present the approved tools to AMEA members. You can access the webinars here.
If you would like to know more about the AMEA Toolbox or get in touch with the tool owners, please contact Filipe Di Matteo (AMEA Programme Officer).
Piloting, LEarning and SCALING
The 10 Tool Improvement Facility (TIF) projects are on track and will yield significant learning for the 2023 Annual Learning Event and Global Convening. In addition we have completed our 2021/22 case studies and will now invest in case studies to generate learning from Nuru (Ethiopia), Grameen Foundation (India), CNFA/SCOPEInsight (Rwanda) and AGRA (Mali). The new Argidius grant has a strong focus on learning, especially from initiatives where there are strong datasets. This next phase of learning will build from the ongoing ISF Advisors' research and feed into the BDS Roadmaps.
AMEA organised  an interactive two-hour workshop in September focused on scalable solutions that will accelerate professionalisation and enable access to finance. We highlighted progress and lessons from innovative programs by AMEA members and partners (AGRA, Cordaid, SCOPEinsight, Rikolto, Agriterra, Aceli Africa) and discussed opportunities to collaborate to advance access to finance for farmer organisations and agri-SMEs. The recording and slide deck for this workshop are available here.
This was followed by AMEA Network Director attending Aceli Africa's Annual Meeting in Nairobi during November. This event had a great mix of Financial Institutions and BDS providers.  Aceli Africa has provided access to BDS for over 280 agri-SMEs to date and over $700,000 in loans have been disbursed. This apparent success does not mean there is full confidence in the BDS approaches and many Financial Institutions continue to run their own TA/BDS. Donors expressed their concern that the lack of data means that BDS cost-effectiveness is impossible to assess. This information gap is where AMEA and Aceli Africa's strategic partnership will aim to deliver; and Aceli Africa's desired move to lower their minimum loan thresholds should allow for greater exchange on learning in BDS delivery.
news from our Local Networks
Ethiopia supports the formation of the Ethiopian Business Advisory Service Providers Association
On 17 November 2022, the AMEA Ethiopia Local Network co-organised a launch event to mark the successful registration and certification of the Ethiopian Business Advisory Service Providers Association (EBASPA). The event follows on from previous workshops AMEA has organised in response to a 'Business Development Services (BDS) for Farmer Organisations' (FOs) landscape study, which recommended the establishment of an association to contribute to improving BDS provision. EBASPA's immediate tasks will be to build its membership base and develop articles of association and a strategy. Its Executive Committee will also work with key members of AMEA's Local Network to develop a BDS roadmap, which will include a number of responsibilities for the Association.
The Local Network has also been closely engaging with AGRA, which is in the final stages of developing a country strategy for the next five years. AGRA held a series of workshops in this regard, and has identified AMEA as a Technical Support Partner. This offers AMEA an opportunity to be a key player in designing AGRA's programs in the coming years, and for scaling up its approach in large scale initiatives. 
kenya progress stalled by elections
Kenya national elections were held in August and it has taken time for the new Government to establish itself. This has affected the planned IWA29 outreach events for three Regions, which will now be held in 2023 in the lead up to a National Consultation as part of the International Standards process which is likely to be held in Q4 2023.
The Kenya Local Network also had the pleasure to host the AMEA Board recently and hold a networking event that evening. It was a great opportunity for the members to connect again and engage with new partners, such as the team from the Kenyan Ministry of Finance who will work with AGRA and Cordaid on the new IFAD funded RK-FINFA programme. this programme provides a significant opportunity to improve agri-BDS within an innovative green financing facility. 
Côte d'ivoire outreach gathers pace
In October, the Côte d'Ivoire Local Network organised an event to reflect on 2022 and collect insights for 2023. This was also an opportunity to welcome Rikolto as a new Local Network member. During this event, SOCODEVI, Le Mont Horeb, TechnoServe and Rikolto shared updates on their ongoing initiatives and where they would need AMEA support in 2023. Some of the key topics that emerged from these discussions included producer livelihoods and living wage, women's empowerment, agricultural risk management, financial education and multi-stakeholder processes. During the event, Julaya (a digital finance platform) was also presented to participants.
As part of its outreach strategy AMEA participated in the IFAD West Africa and Central Africa Regional Farmers' Forum and Regional Implementation Workshop in November 2022 and hosted a side event on 'The Paradigm Shift for Sustainable Business Development Services (BDS)', which focused on accelerating inclusive agribusiness growth.
This was followed later in the month with the 5th National Technical Group on Professional Farmers Organizations (organised by the Local Network). During this meeting, the main outputs, conclusions, and recommendations of AMEA's study on Farmers Organizations Access to finance in the cocoa sector in Cote d'Ivoire were shared. There was a great interest in the study and discussion that will pave the way for the setting up of a BDS roadmap. The Conseil of Café Cacao also shared their ongoing pilot to support cooperative financial management. The CODINORM shared the decision of ISO on the positive vote for a working group to establish the Professional Farmers organisation international standards.
honduras commissions bds study
The AMEA Local Network in Honduras commissioned a study to assess the current state of Business Development Services (BDS) and the potential opportunities to leverage effectiveness, sustainability, and scalability in the BDS market. In June 2022, Rikolto and AMEA organised an initial feedback workshop to allow AMEA members and key partners to contribute to the findings of the study. After several rounds of feedback, a final report was completed in September 2022.
Peru begins activties
The AMEA Local Network in Peru was formally accepted by the AMEA Board in April 2022. Members in Peru have started working on drafting the TORs for two case studies as well as on broadening the scope of a BDS study.
Visit our Peru webpage to learn more about this Local Network's focus areas and members. We will publicly announce this Local Network soon!
benin becomes amea's 7th local network
A significant breakthrough was achieved in West Africa where Benin was approved by the AMEA Board on 17 November 2022 as the 7th Local Network.
This followed a year-long process which led to a multi-stakeholder meeting on 13 October where agreement was reached to establish a Benin Local Network. During this meeting, participants agreed on the common vision or project for the network, and identified the challenges and opportunities in the development of a Local Network. The Benin Local Network proposal was approved by the AMEA board in November. We will provide AMEA members with more details on how to participate in this Local Network in the coming weeks.
rwanda network takes shape
Harrison Kaziro represented AMEA at the Cooperative Learning Event (16 – 18 November) organised by the Rwanda Institute of Cooperatives, Entrepreneurship and Microfinance (RICEM). The event highlighted the need for closer collaboration amongst actors supporting cooperatives and farmer organisations in Rwanda (and globally). AMEA will work closely with RICEM to support the establishment of a Local Network in Rwanda, depending on members' needs. This will start with a Local Network event planned for January and we expect to assess the potential of launching this Local Network by the end of Q1 2023.