AMEA at the first Ugandan National Agricultural Extension Week
On 23 – 26 May 2023, Uganda held its first National Agricultural Extension week in Kampala. The event was organised by the Uganda Forum for Agricultural Advisory Services (UFAAS) and aimed to highlight innovative and collaborative approaches to extension and advisory services in Uganda. Over 400 participants gathered both in-person and online for discussion and exchange on the key challenges and solutions for the sector.
AMEA was pleased to present (3:46 onwards in video) our work on improving and scaling business development services for farmers and other users of agricultural extension services. The event was an opportunity to showcase our work in Uganda, connect with existing partners and find new opportunities to collectively improve services for farmers and Agri-SMEs.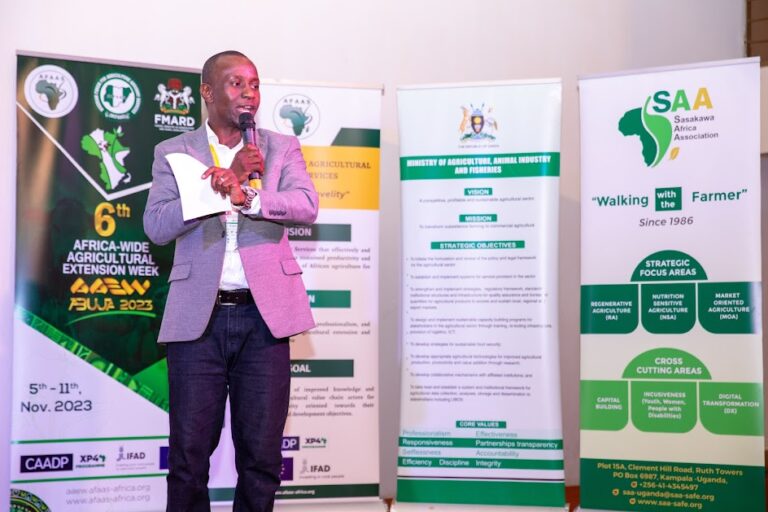 In both the plenary session and a side-event, our Uganda Regional Network Facilitator (Harrison Kaziro) highlighted the core activities taking place in our Uganda Local Network including:
Support for the development of the 'Professional Farmer Organisations Guidelines' with the Ministry of Agriculture, Animal Industries and Fisheries (MAAIF)
Support for the development of a national co-operative database with the Ministry of Trade, Industry and Cooperatives (MTIC) and other partners
Participation in the ISF Advisors' study on effective and efficient BDS for Agri-SMEs
Facilitating dialogues to develop an Agri-BDS roadmap in Uganda
In our side-event, we delved deeper into the development of the AMEA BDS roadmap for Uganda, outlining how the AMEA network is working in collaboration with MAAIF and MTIC to streamline BDS services within the wider landscape of Agricultural Advisory and Extension Services .
The week closed with a speech from the Honourable Senior Minister of Agriculture, Animal Industry and Fisheries, Frank Tumwebaze, who emphasised the importance of agricultural extension and the need to standardise messaging and support that farmers receive. Watch the event highlights here.
We are encouraged by the enthusiasm and commitment from stakeholders to quality and streamlined BDS and extension services in Uganda. AMEA's next phase of support for MAAIF and its partners is to fine-tune the National Agricultural Extension Services Bill, for re-submission to cabinet as well as support efforts to develop an accreditation process for Agricultural Extension and Advisory Service providers in Uganda. 
Interested in learning more about our BDS work in Uganda? Contact Harrison Kaziro.