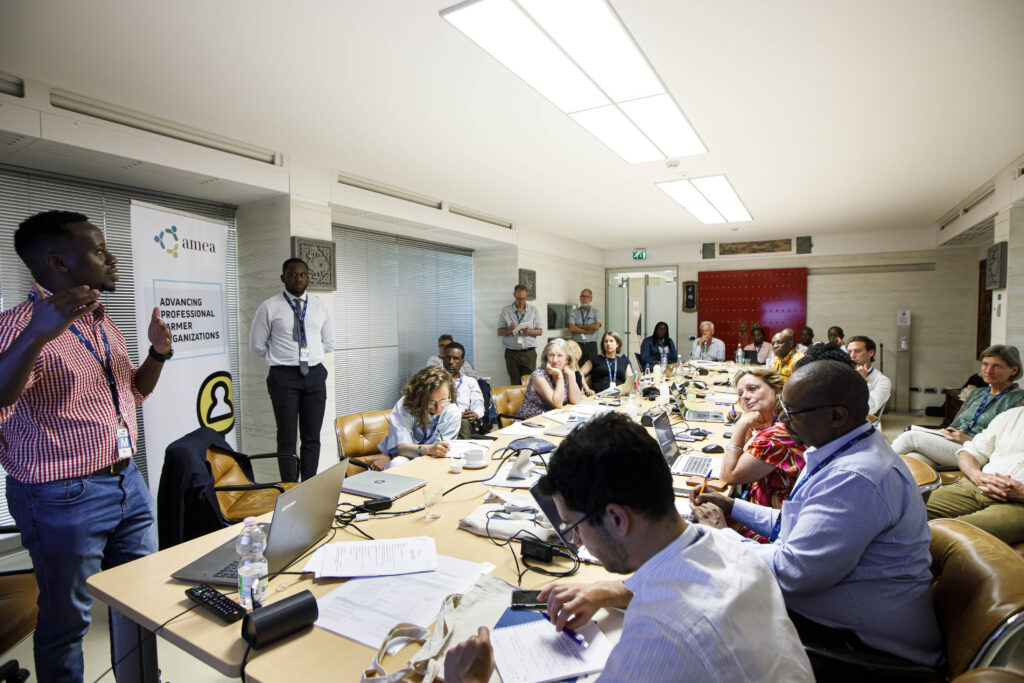 Firstly, let me welcome our new members and people.
We now have Agriterra, AgNexus Africa and RICEM as AMEA members. Agriterra bring significant experience in agri-SME development and a strong focus on advocacy in West Africa; AgNexus Africa have a commercial model for supporting input retailers in East Africa; and RICEM are leading efforts to set up AMEA Rwanda. We also have a new Board member. Edmond Ringo is the Managing Director and Chief Executive Officer of Match Maker Associates Limited, a leading BDS provider in East Africa. Edmond is passionate about empowering agri-SMEs, producer organisations and creating employment for youth and women. Edmond is excited to contribute to AMEA's work to spearhead improvement and harmonisation of quality of BDS tools and their respective service delivery models (SDMs).
AMEA has been very busy in the first half of 2023 which climaxed with the Annual Learning Event and the first in-person AMEA Global Convening for 4 years! We also successfully delivered on the 3 year IFAD grant due to the innovation and engagement of our members and partners. It is particularly impressive that the use of AMEA tools has grown by up to 25% in this period with 2.6m farmers benefiting from improved BDS. 
The Local Networks are now the heart of AMEA's work and BDS roadmaps bring member and partner initiatives together to change BDS market systems. This collaboration will generate the evidence needed to show what is working and should be scaled; and attract resources to enable that scaling. Evidence also requires credible data, and we have made significant progress towards an International Standard that provides a framework for measuring effectiveness of support to Farmer Organizations. The lack of credible data was highlighted by the ISF study and in a world where resources are increasingly constrained data on cost-effectiveness will be needed to justify future investments. As one USAID source said, "Why should we spend money on BDS if you cannot show me how effective it has been?" I therefore encourage you to find ways to become more data driven, invest in deeper learning processes and adopt scalable approaches…and AMEA is happy to support you on that journey!
Local Networks & BDS roadmaps
Ethiopia welcomes new network facilitator 
AMEA welcomes Desta Damena Heyi, our new Ethiopia Regional Network Facilitator. Desta, who comes from a smallholder farming family, brings over 20 years of work experience in agricultural development, including a management position for the ICCO (Cordaid) Ethiopia Country Office. His previous work includes SME development, access to finance, Market System Development and agricultural value chain development.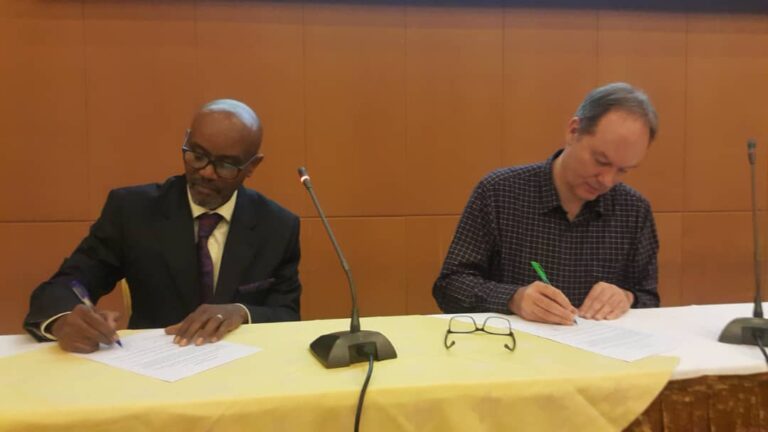 This year, AMEA's Local Network in Ethiopia and the Ethiopian Business Advisory Service Providers Association launched a roadmap to improve the provision of business development services for farmer organizations and agricultural enterprises in Ethiopia. The roadmap will be implemented over the next three years (2023 – 2026).
kenya COMMISSIONS AG-TECH STUDY
In April, the AMEA AgTech Working Group commissioned agriBORA to produce a study on digital agricultural technologies (AgTech) in Kenya. The findings of the study provide consistent and targeted guidance for FOs and BDS providers to prioritise and select digital technologies for investment according to FOs needs for capacity strengthening.
The study will inform the AMEA Kenya Local Network plans to develop an AgTech Roadmap this year. For more information about the Kenya AgTech Roadmap plans, please contact Merciline Oyier, Filipe Di Matteo, or Casey Harrison.
Côte d'ivoire HOSTS BDS DIALOGUE
In January and April 2023, AMEA convened two national dialogues around the development of the BDS roadmap. The two national consultations gathered together private and public sectors as well as AMEA members and partners. The Agri-BDS aims to focus on the following:
Rethinking the way business development services are delivered in agriculture.
Identify the local commitment and action required.
Mobilise stakeholders to commit individually, collectively, technically and financially to an improved strategy for Agri-BDS
The Local network also conducted a field visit to the "Farmers Hope (FAHO)" cocoa cooperative, which is supported by SOCODEVI, an AMEA Local Network member, through their PROCED Project.
UGANDA SHOWCASES LATEST ACTIVITIES
A highlight for the Uganda Local Network was our participation in the first National Agricultural Extension week in Uganda. The event was an opportunity to showcase our work in Uganda, connect with existing partners and find new opportunities to collectively improve services for farmers and Agri-SMEs.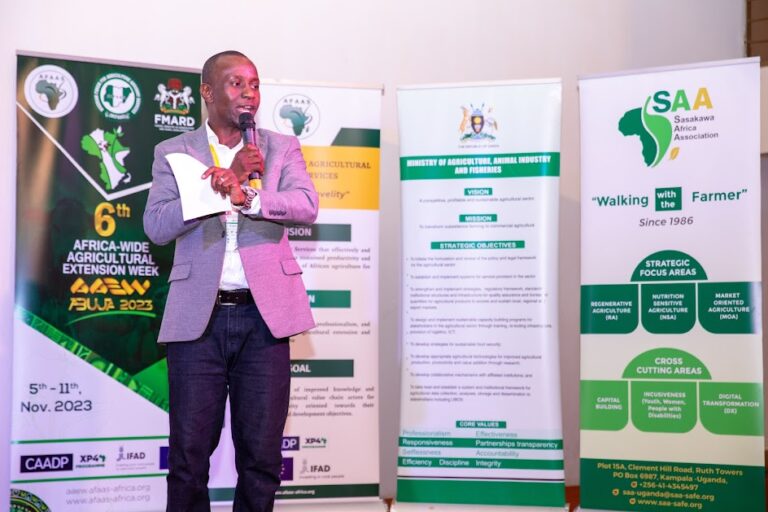 AMEA Uganda also contributed to Development Gateway's report on farmer-centric data governance. This guide was produced under DAI's Digital Frontiers Project at the request of USAID and BMGF.
HONDURAS welcomes new members
The Honduras Local Network will be led by ACDI VOCA going forward. We also welcomed SOCODEVI and SOLIDARIDAD as new local members. Our BDS roadmap and promoting collaborations between members are key focuses for the Local Network.
Starting this year, the Local Network will be actively involved in AgroMercados, a key agricultural fair in Honduras organised by AMEA member, FUNDER. This is an opportunity to work more closely with government, private sector and donors.
benin makes progress on BDS work
The Benin Local Network was officially launched in February. The establishment and development of the Local Network have benefited from the technical and financial support of the Dutch Embassy with a 2 year action plan for funding.
Benin's BDS Roadmap dialogue (April 2023) centred on establishing a sustainable agri-BDS roadmap that supports local policy and initiatives. Three projects were also selected for the BDS Improvement Facility:
Supporting Farmers Organizations by Combining Two tools (CREATE & Rural Invest) for efficient management and improved bankability (by M2M & Talents Plus)
Strengthening the capacity of farmers organisations to produce and market agro-ecological products: ACED's integrated approach (By ACED Benin)
Mini-PAT Mirror Method for Farmers Organisations (By Sens Benin)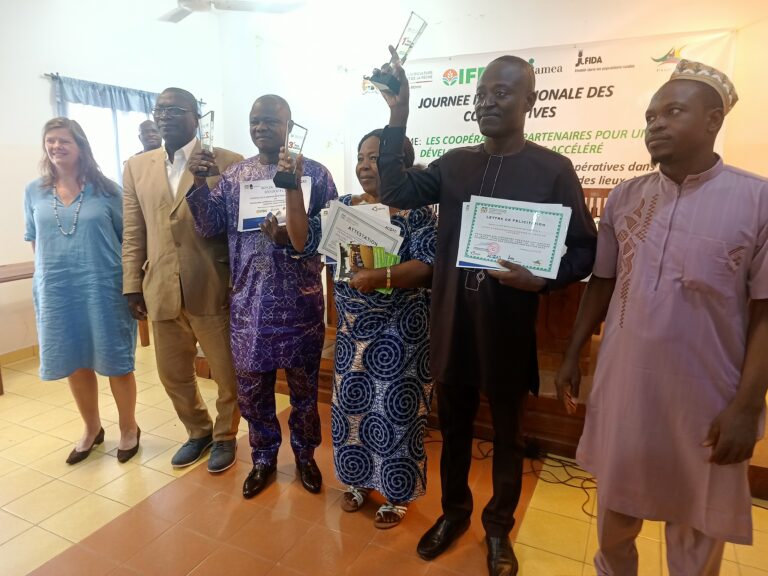 In collaboration with the Direction de la Législations Rurale et de l'Appui aux Organisations Agricoles (DLROPEA) of the Ministry of Agriculture, and other partners such as ACMA 3 project (lead by IFDC) and PROCAR (funded by IFAD), AMEA supported the 2023 awards for the most promising cooperatives. The selection process was conducted by the DLROPEA and following cooperatives have been nominated:
Union Nationale des Eleveurs de Lapins du Littoral
Coopérative d'Aménagement Rural CAR OBEKEWERE-OUERE
Coopérative ALOYIME de Dansougbonou
Peru activities stalled
The Local Network has struggled to implement activities this year due to the complicated political situation which is straining members' ability to engage with AMEA. We still plan to start the BDS Roadmap process in Peru and conduct case studies, once the situation normalizes.
potential new local networks
rwanda network moves forward 
We welcomed the Rwanda Institute of Cooperatives, Entrepreneurship, and Microfinance (RICEM) as a
new member
this year as they are leading efforts to establish an AMEA Local Network in Rwanda. In June RICEM hosted a meeting to introduce AMEA, IWA29 progress and how government institutions, business development services, and cooperatives can collaborate to scale up the professionalization of farmer organisations. The conference was attended by 27 individuals from various interested institutions.
Following the productive discussions and presentations during the meeting, it was agreed that further meetings would be developed to facilitate ongoing discussions, exchange of ideas, and sharing of relevant resources. This would enable participants to build upon the connections established during the meeting and continue collaborating beyond the event. Specifically, a roadmap will be developed to identify specific areas of partnership and potential joint projects. We hope that the development of these commitments into specific actions will lead to the formalization of AMEA Rwanda by the end of 2023
GHANA convenes national agri-BDS dialogue
We welcomed Agriterra as a
new member
in our Ghana Local Network. They bring a wealth of experience in working with agricultural cooperatives to this newly established Local Network.
Similarly to the Agri-BDS roadmap process in Côte d'Ivoire, AMEA convened a national Dialogue on Agri-BDS in January. The dialogue lead to the development of an agri-BDS roadmap with two main workstreams:
BDS services coordination,service quality, and BDS bureau
BDS users community of practice and framework for cost effectiveness measurement.
Tis initiative has been further discussed with ANDE West Africa with the aim of combining efforts in West Africa. This will be taken forward at the upcoming ANDE Global Conference.
Other local network progress
In INDIA, we have re-engaged with the National Association of Farmer Producer Organizations (NAFPO). A National Dialogue is being planned for the end of September.
In TANZANIA we have a webinar planned for the Agricultural Non State Actors Forum and expect to follow up with face to face meetings in September at AGRF.
AMEA is seen as a knowledge management leader and will continue to focus on delivering learning that goes beyond traditional case studies and evaluations.
At the start of the year the ISF Advisors' research on the "Effectiveness and efficiency of BDS for Agri-SMEs" was launched, in collaboration with AGRA, Agriterra, Argidius, Small Foundation and SAFIN. We highly recommend reading the final report for insights as we work towards improved BDS approaches.
We also continued to produce case studies, highlighting the interesting work being done by our members and partners.
AMEA Benin and Côte d'Ivoire also organised a series of webinars on key issues facing cooperatives, in collaboration with Directorates of farmers organisations of both countries and the National Chamber of Agriculture of Benin.
In June we also wrapped up our Tool Improvement Facility (TIF) initiative and mapped these projects and our learnings from them in our TIF report.
These learnings were taken into our Annual Learning Event which brought together 68 participants from 53 organisations over two days. The event included six interesting presentations from our members and partners on different elements of BDS such as risk-sharing, data governance, inclusion and reaching agri-SMEs at scale.
We were also delighted to finally meet in-person during our Global Convening, hosted by IFAD in their Rome office. During this time, we reaffirmed our focus on drawing learning around the use of cost-effective, scalable approaches to deliver inclusive, sustainable agricultural growth for agri-SMEs. These approaches and programmes should capture credible data/information about how an integrated approach works and its impact. We also will examine the cost of BDS delivery and consider whether different approaches can be more cost-effective.
We have followed this meeting with bilaterals to deepen knowledge within members and find new ways for members to engage in AMEA. An example is the recent AGRA webinar which was delivered in June. Interested in doing a similar webinar? Please contact us.
The ISO Technical Committee 34 (on Food Products) has approved a Draft International Standard (DIS) as part of the process to transform the IWA 29 into a full-fledged ISO standard. The ISO/DIS 18716, as it is now called, will proceed to a 12-week public consultation before a final TC adjustments and ballot. The period for the public consultation is from October until December 2023. You can provide comments to the draft document by engaging directly with your country's National Standardization Bureau or by contacting AMEA at global or local levels.